Implementation of a heterodyne demodulator for blood flow sense discrimination in a bi-directional ultrasonic Doppler detector
F. García

Instituto de Investigaciones en Matemáticas Aplicadas y en Sistemas. Universidad Nacional Autónoma de México

J Solano

Instituto de Investigaciones en Matemáticas Aplicadas y en Sistemas. Universidad Nacional Autónoma de México

M. Fuentes

Instituto de Investigaciones en Matemáticas Aplicadas y en Sistemas. Universidad Nacional Autónoma de México

E. Rubio

Instituto de Investigaciones en Matemáticas Aplicadas y en Sistemas. Universidad Nacional Autónoma de México
Keywords:
Doppler blood flow, flow separation, heterodyne separation
Abstract
Doppler ultrasound systems have been widely used in medical diagnosis, in the study of blood flow, in particular, in the diagnosis of vascular disorders. This is mainly due to its non-invasive method and its relatively low cost. An important feature of the ultrasonic Doppler system is the capability to detect the signal associated with the blood flow and discriminate its direction. The Doppler ultrasound signal contains information associated with the velocity of the blood components, and its frequency spectrum represents the velocity profile of blood flow, which may be direct or reverse. Typically Doppler ultrasound systems which detect the sense of the direction of blood flow signal, are based on methods of homodyne demodulation in quadrature. However the signals produced by these detectors require an additional separation process. This paper addresses the implementation of a heterodyne demodulator as a part of a Doppler ultrasound detector for measuring bi-directional blood flow. We describe the detection process of the Doppler ultrasound blood flow signal and its representation in the form of a two-dimensional spectrogram. Doppler blood flow sensing devices and their classification according to their operation mode and type of demodulation are also described. Finally, functionality tests are presented and results are analyzed.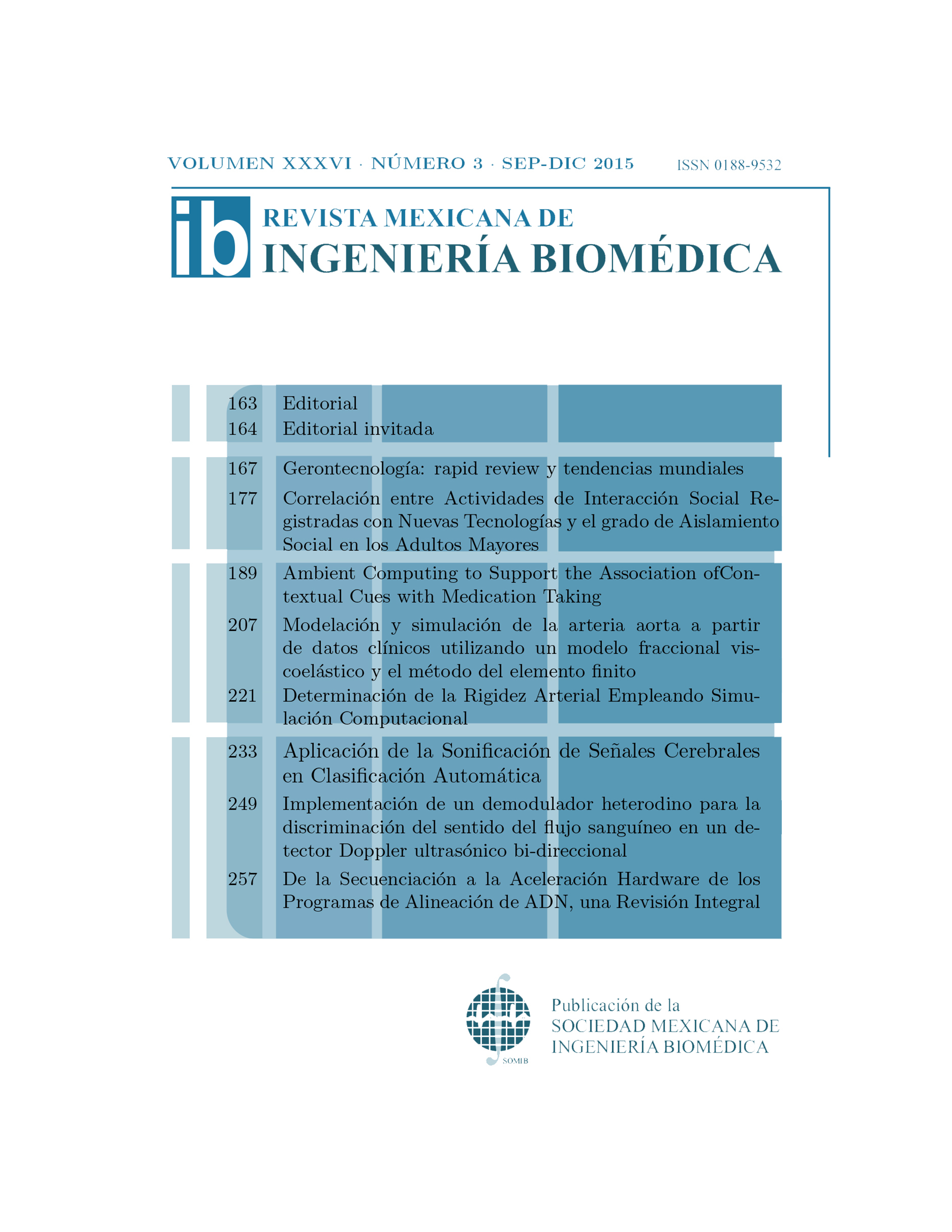 How to Cite
García, F., Solano, J., Fuentes, M., & Rubio, E. (2015). Implementation of a heterodyne demodulator for blood flow sense discrimination in a bi-directional ultrasonic Doppler detector. Mexican Journal of Biomedical Engineering, 36(3), 249-256. https://doi.org/10.17488/RMIB.36.3.2
Copyright (c) 2015 Revista Mexicana de Ingeniería Biomédica
This work is licensed under a Creative Commons Attribution 4.0 International License.
Upon acceptance of an article in the RMIB, corresponding authors will be asked to fulfill and sign the copyright and the journal publishing agreement, which will allow the RMIB authorization to publish this document in any media without limitations and without any cost. Authors may reuse parts of the paper in other documents and reproduce part or all of it for their personal use as long as a bibliographic reference is made to the RMIB and a copy of the reference is sent. However written permission of the Publisher is required for resale or distribution outside the corresponding author institution and for all other derivative works, including compilations and translations.