A simple alternative for modulating and recording the PQRST complex
Mario Eduardo Cano

Centro Universitario de la Ciénega dela Universidad de Guadalajra, Ocotlán, Jalisco, México

R A Jaso

Centro Universitario de la Ciénega dela Universidad de Guadalajra, Ocotlán, Jalisco, México

M E Tavares

Centro Universitario de la Ciénega dela Universidad de Guadalajra, Ocotlán, Jalisco, México

J C Estrada

Centro Universitario de la Ciénega dela Universidad de Guadalajra, Ocotlán, Jalisco, México

E A Mena

Centro Universitario de la Ciénega dela Universidad de Guadalajra, Ocotlán, Jalisco, México

O Reynoso

Centro Universitario de la Ciénega dela Universidad de Guadalajra, Ocotlán, Jalisco, México

A González Vega

Departamento de Ciencias e Ingeniería, Universidad de Guanajuato, León Gto, México

T Córdova Fraga

Departamento de Ciencias e Ingeniería, Universidad de Guanajuato, León Gto, México
Abstract
En este trabajo se presentan los pasos realizados para el desarrollo de un dispositivo personal de bajo costo para el acondicionamiento, modulación en amplitud y grabación de la actividad eléctrica generada por derivaciones bipolares del corazón. Asimismo se propone un método de monitoreo remoto utilizando un transmisor-receptor en frecuencia modulada adaptado a la entrada de la tarjeta de audio de una computadora personal. Se desarrollan mediciones simultáneas del complejo PQRST en distintos voluntarios usando el equipo propuesto y un electrocardiógrafo comercial con el fin de determinar los efectos de modulación y transmisión del sistema propuesto. Las diferencias obtenidas en el análisis de las señales muestran una diferencia máxima del 13% en distintos intervalos del complejo PQRST originados por el efecto de la modulación, siendo el segmento PR y la onda QRS los más afectados. En general se observa una buena correspondencia entre las señales obtenidas con el dispositivo propuesto al ser comparadas con las obtenidas con un electrocardiógrafo comercial.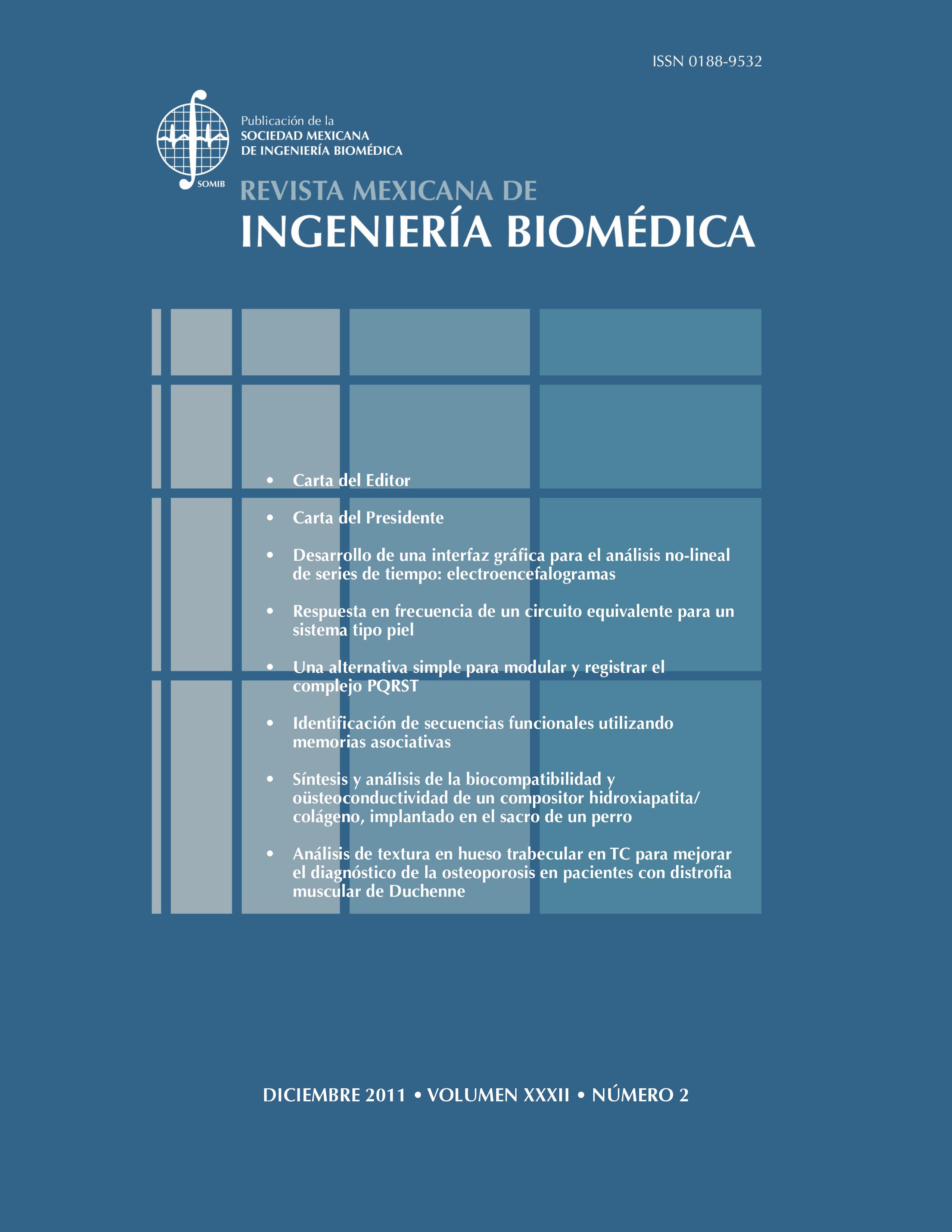 How to Cite
Cano, M. E., Jaso, R. A., Tavares, M. E., Estrada, J. C., Mena, E. A., Reynoso, O., González Vega, A., & Córdova Fraga, T. (2018). A simple alternative for modulating and recording the PQRST complex. Mexican Journal of Biomedical Engineering, 32(2), 9. Retrieved from http://rmib.com.mx/index.php/rmib/article/view/460
Section
Research Articles
Copyright (c) 2011 Revista Mexicana de Ingeniería Biomédica
This work is licensed under a Creative Commons Attribution 4.0 International License.
Upon acceptance of an article in the RMIB, corresponding authors will be asked to fulfill and sign the copyright and the journal publishing agreement, which will allow the RMIB authorization to publish this document in any media without limitations and without any cost. Authors may reuse parts of the paper in other documents and reproduce part or all of it for their personal use as long as a bibliographic reference is made to the RMIB and a copy of the reference is sent. However written permission of the Publisher is required for resale or distribution outside the corresponding author institution and for all other derivative works, including compilations and translations.