Portable heart rate monitor for physical exercise: EKT
J. Calderón Becerra

Centro de Desarrollo y Aplicaciones Tecnológicas. Universidad LaSalle. Dirección de Actividades Deportivas

J. Cabrera Cortina

Centro de Desarrollo y Aplicaciones Tecnológicas. Universidad LaSalle. Dirección de Actividades Deportivas

C. Baez García

Centro de Desarrollo y Aplicaciones Tecnológicas. Universidad LaSalle. Dirección de Actividades Deportivas

M. Ramirez Gonzalez

Centro de Desarrollo y Aplicaciones Tecnológicas. Universidad LaSalle. Dirección de Actividades Deportivas

L. Cortes Coronado

Universidad LaSalle. Dirección de Actividades Deportivas

B. Escandón Martínez

Dirección de Sistemas y Procedimientos Médicos de Apoyo

R. Paulin Wesseling

Centro de Desarrollo y Aplicaciones Tecnológicas. Universidad LaSalle.

M. Barrientos Martínez

Dirección de Sistemas y Procedimientos Médicos de Apoyo

H. Brust Carmona

Dirección General de Investigación y Desarrollo Tecnológico
Abstract
Se presenta el circuito de un convertidor d frecuencia cardiaca- voltaje cuyo diseño permite monitorear continuamente la frecuencia cardiaca durante el ejercicio físico. La validación de este monitor se hizo por comparación con las mediciones hechas con el estetoscopio y empleando  el registro continuo conectando el EKT a una microcomputadora. Los resultados de esta investigación indican que el EKT tiene la misma exactitud que el estetoscopio y es superior a este cuando se requieren mediciones continuas durante el ejercicio físico.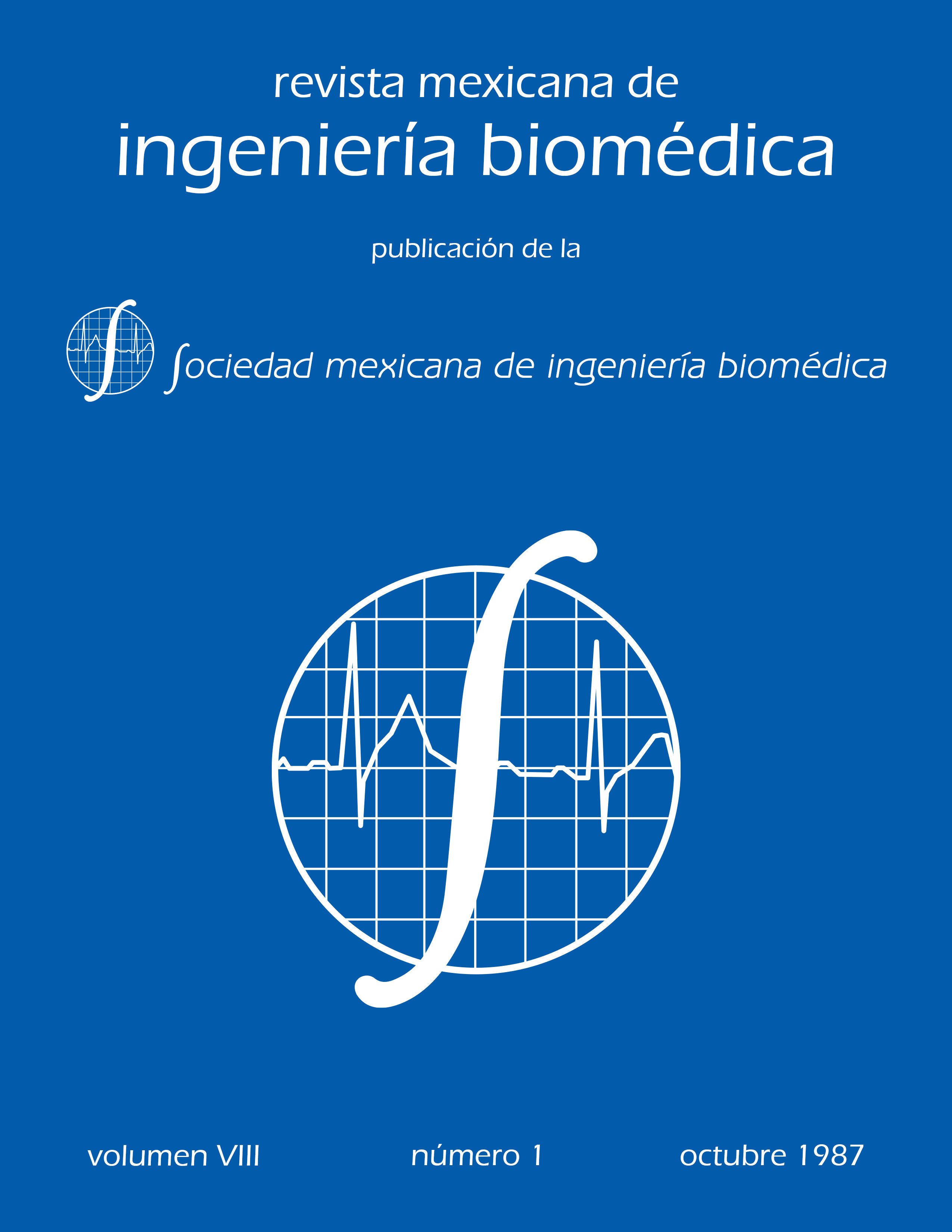 How to Cite
Calderón Becerra, J., Cabrera Cortina, J., Baez García, C., Ramirez Gonzalez, M., Cortes Coronado, L., Escandón Martínez, B., Paulin Wesseling, R., Barrientos Martínez, M., & Brust Carmona, H. (2018). Portable heart rate monitor for physical exercise: EKT. Mexican Journal of Biomedical Engineering, 8(1), 12. Retrieved from http://rmib.com.mx/index.php/rmib/article/view/609
Section
Research Articles
Copyright (c) 1987 Revista Mexicana de Ingeniería Biomédica
This work is licensed under a Creative Commons Attribution 4.0 International License.
Upon acceptance of an article in the RMIB, corresponding authors will be asked to fulfill and sign the copyright and the journal publishing agreement, which will allow the RMIB authorization to publish this document in any media without limitations and without any cost. Authors may reuse parts of the paper in other documents and reproduce part or all of it for their personal use as long as a bibliographic reference is made to the RMIB and a copy of the reference is sent. However written permission of the Publisher is required for resale or distribution outside the corresponding author institution and for all other derivative works, including compilations and translations.