Aplicación de un árbol de decisión difusa con clasificación de ambigüedad para determinar el exceso de peso en escolares
J. Sulla-Torres

Universidad Nacional de San Agustín, Arequipa, Perú

R. Gómez-Campos

Universidad Autónoma de Chile, Chile

M. A. Cossio-Bolaños

Universidad Católica del Maule, Talca, Chile
Abstract
La técnica del árbol de decisiones en las ciencias de la salud sirve para comprender las correlaciones entre las descripciones de los pacientes y para clasificar de forma precisa en diversas categorías. El objetivo del estudio fue analizar la exactitud de la clasificación del exceso de peso de escolares mediante la aplicación de un árbol de decisión difusa, utilizando una base de datos de Itaupú, Paraná (Brasil). Se utilizó la base de datos de una muestra conformada por 5962 estudiantes (3024 del sexo femenino y 2938 del sexo masculino), con un rango de edad entre los 6 a 17 años de edad. Las variables consideradas fueron peso, estatura y el Índice de Masa Corporal (IMC). Para clasificar los datos antropométricos de los escolares se utilizó un árbol de decisión difusa. Los resultados del aprendizaje mostraron una clasificación correcta en el sexo femenino de 2688 y en el sexo masculino de 2471 registros respectivamente. En relación a la exactitud, se determinó 84% en el sexo masculino y 89% en el sexo femenino. El Área Bajo la curva mostró valores más altos en el método Difuso y en ambos sexos (0.965-0.983), mientras que en el método clásico, fueron inferiores (0.804-0.895). De acuerdo a los resultados calculados es posible aplicar el árbol de decisión difusa para la clasificación de escolares con exceso de peso con una exactitud aceptable, además se presenta como una técnica alternativa que puede ahorrar tiempo a la hora de analizar el estado nutricional, sin embargo, no se realizó otros cálculos estadísticos que tengan que ver con la precisión y exactitud a través de métodos estadísticos convencionales y comparar con la técnica de árboles difusos.
Downloads
Download data is not yet available.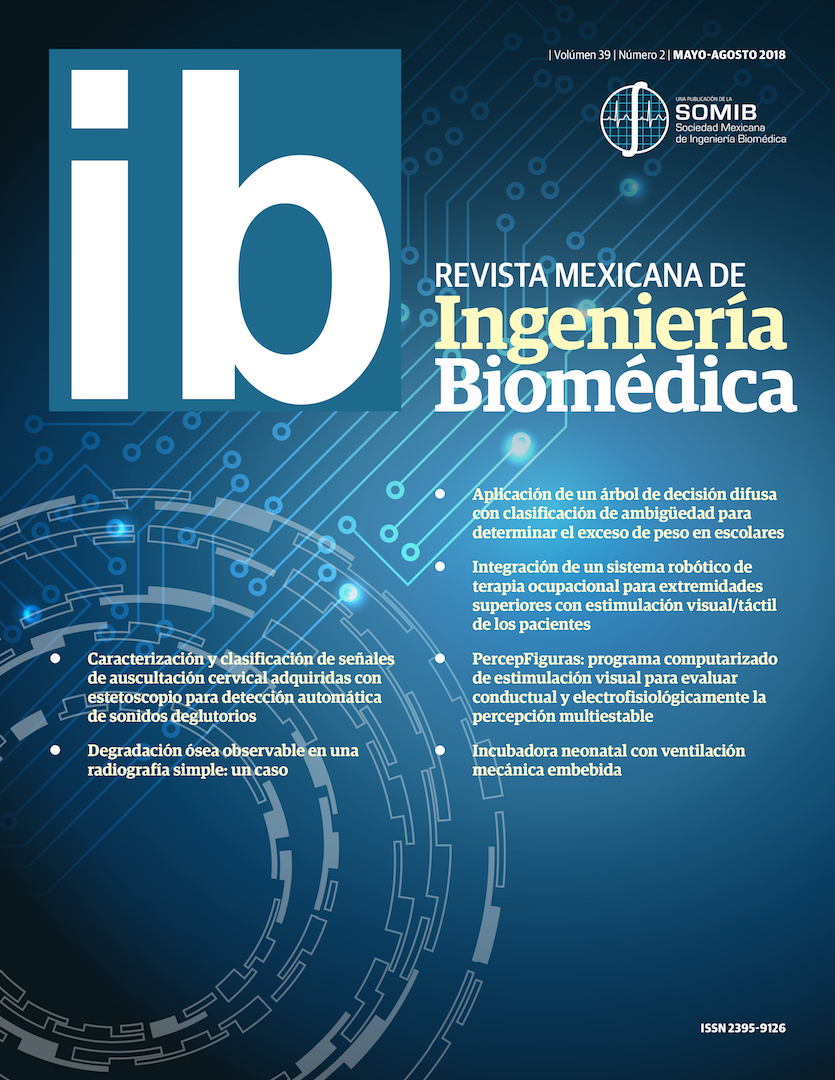 How to Cite
Sulla-Torres, J., Gómez-Campos, R., & Cossio-Bolaños, M. A. (2018). Aplicación de un árbol de decisión difusa con clasificación de ambigüedad para determinar el exceso de peso en escolares. Mexican Journal of Biomedical Engineering, 39(2), 128-143. https://doi.org/10.17488/RMIB.39.2.1
Section
Research Articles
Upon acceptance of an article in the RMIB, corresponding authors will be asked to fulfill and sign the copyright and the journal publishing agreement, which will allow the RMIB authorization to publish this document in any media without limitations and without any cost. Authors may reuse parts of the paper in other documents and reproduce part or all of it for their personal use as long as a bibliographic reference is made to the RMIB and a copy of the reference is sent. However written permission of the Publisher is required for resale or distribution outside the corresponding author institution and for all other derivative works, including compilations and translations.