Bioactivity and hemolysis test of hydroxyapatite/zirconia composites (HAp/ZrO2-8Y2O3) for bone implants
Abstract
Se presenta la síntesis de compósitos de hidroxiapatita/zirconia (HAp/ZrO2-8Y2O3) por el método de mezclado líquido en base al método de Pechini, cuya innovación radica en la obtención simultánea de ambas fases con distribución uniforme, aunque tiene la limitante de la interacción de los cationes, propiciando la formación de fases secundarias si no se controlan las variables. Los materiales fueron conformados en discos de 1 cm de diámetro y tratados a 1400 °C, para caracterizarse por espectrometría de infrarrojo (FTIR-ATR) y difracción de rayos X (DRX). Las pruebas de bioactividad fueron realizadas mediante el método de inmersión en fluidos fisiológicos simulados durante 21 días y caracterizadas por microscopia electrónica de barrido (MEB) y espectrometría de fotoelectrones emitidos por rayos X (XPS). Las pruebas de hemólisis se basaron en la norma ASTM F 756-00. Después de la inmersión, se observó la presencia de cristales de hidroxiapatita sobre la superficie del compósito, además los análisis de XPS muestran señales de energía para los elementos de calcio y fósforo. En cuanto a las pruebas de hemólisis se observaron grados de citotoxicidad por debajo del 3% con lo cual se infiere que son hemocompatibles, aunque se requieren más estudios de biocompatibilidad para su aplicación biomédica.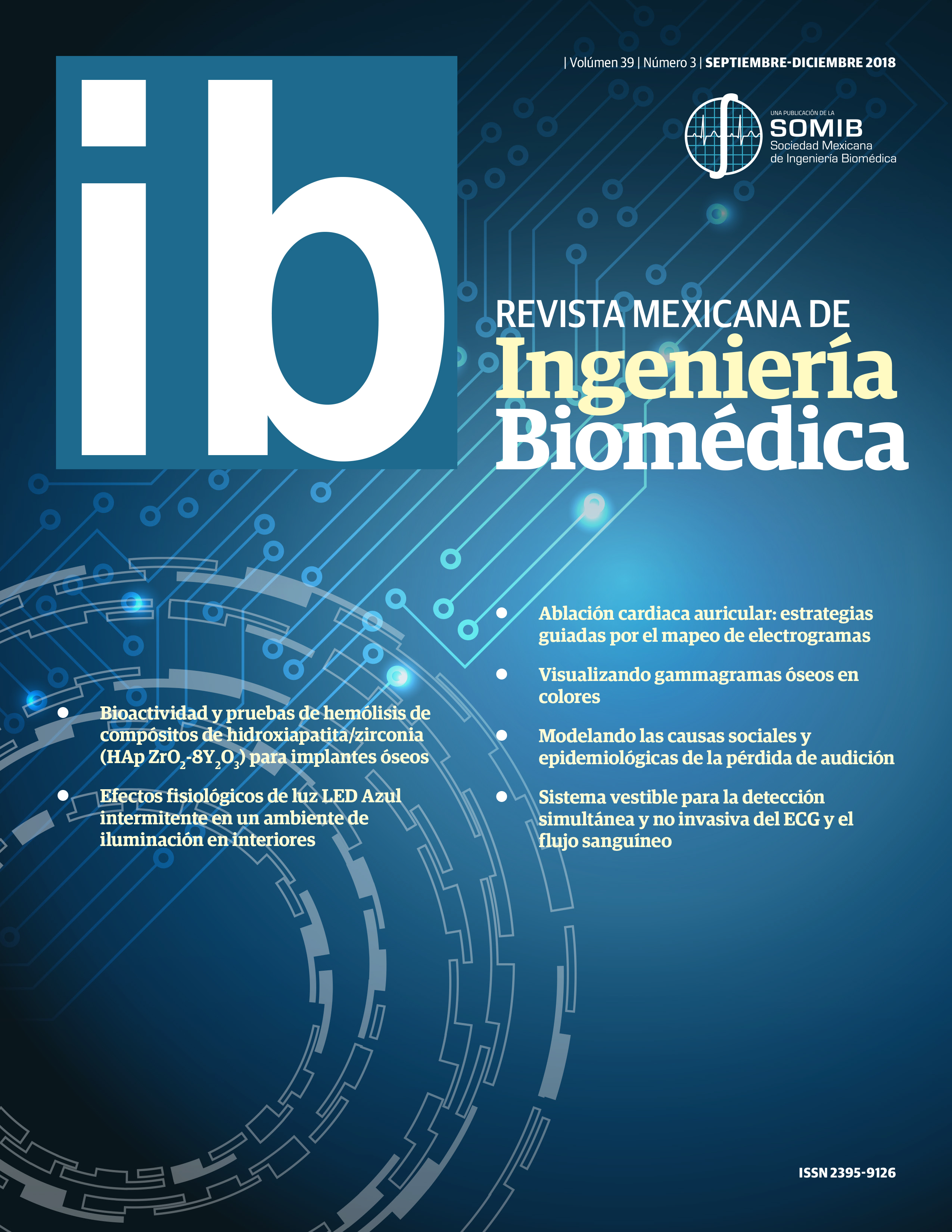 Section
Research Articles
This work is licensed under a Creative Commons Attribution 4.0 International License.
Once an article is published in the RMIB the authors give the copyright of the published work to the RMIB, and it is authorized to publish this work in any medium, without any limitations and also, without any cost. The authors may reuse portions of the work in other documents, as well as reproduce it partially or totally for their personal use, as long as a bibliographic reference is made to the RMIB and a copy of the writing is sent.