Morphological and electrochemical behavior of polycaprolactone-chitosan-collagen film fabricated by Dip Coating on Ti6Al4V
F C García Rueda

Grupo de Investigaciones en Corrosión GIC, Piedecuesta, Colombia. Universidad Industrial de Santander, Bucaramanga, Colombia

D Y Peña Ballesteros

Grupo de Investigaciones en Corrosión GIC, Piedecuesta, Colombia. Universidad Industrial de Santander, Bucaramanga, Colombia

H. A Estupiñán Durán

Grupo de Investigaciones en Corrosión GIC, Piedecuesta, Colombia. Universidad Industrial de Santander, Bucaramanga, Colombia
Keywords:
Ti6Al4V, polycaprolactone, chitosan, collagen, calcium adsorption
Abstract
  This paper presents the characterization by the infrared technique, atomic force microscopy, scanning electron microscopy and contact angle of the polymer coatings of the binary mixture of polycaprolactone-chitosan and its modification after addition of collagen were deposited by the technique of Dip Coating on Ti6Al4V alloy; also by the technique of Electrochemical Impedance Spectroscopy were evaluated the Ti6Al4V alloy coated by polymer blends zero days immersion in Simulate Bode Fluid and of adsorptivity calcium to 21 days immersion. Thus, representative effects on the role of collagen to increase the surface roughness, higher values in the polarization resistance of Ti6Al4V, better behavior parameters free energy, atomic adsorption of calcium and the consolidation of a found new interface associated with the monolayer calcium simulated by equivalent circuits and observed by Scanning Electron Microscopy.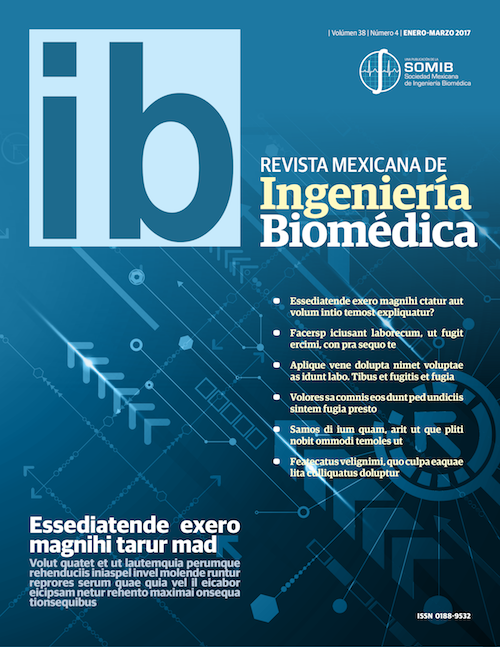 How to Cite
García Rueda, F. C., Peña Ballesteros, D. Y., & Estupiñán Durán, H. A. (2017). Morphological and electrochemical behavior of polycaprolactone-chitosan-collagen film fabricated by Dip Coating on Ti6Al4V. Mexican Journal of Biomedical Engineering, 38(1), 54-75. Retrieved from https://rmib.com.mx/index.php/rmib/article/view/12
Section
Research Articles
Upon acceptance of an article in the RMIB, corresponding authors will be asked to fulfill and sign the copyright and the journal publishing agreement, which will allow the RMIB authorization to publish this document in any media without limitations and without any cost. Authors may reuse parts of the paper in other documents and reproduce part or all of it for their personal use as long as a bibliographic reference is made to the RMIB and a copy of the reference is sent. However written permission of the Publisher is required for resale or distribution outside the corresponding author institution and for all other derivative works, including compilations and translations.