Biomechanical reference standards for early diagnosis of disturbances of balance: pilot study
C. Cifuentes De la Portilla

Facultad de medicina. Universidad de Especialidades Espíritu Santo - UEES, Ecuador

O. Perdomo Charry

Grupo de Investigación MindLab, Facultad de Ingeniería, Universidad Nacional de Colombia

R. Argothy Bucheli

Centro de Ciencias del Deporte - CCD, Coldeportes Colombia
Keywords:
Stabilometry, balance, biomechanics, patterns
Abstract
  The posture instability and body balance alteration, are signs commonly observed in patients with diseases associated with the musculoskeletal, visual, vestibular and proprioceptive systems, being the stabilometry the main clinical assessment study. However, it has not been established a standard or a quantitative pattern to classify healthy and pathological subjects based on the impaired balance level. Objective: The main objective of this study was to conduct a preliminary stabilometric analysis in 38 healthy subjects (19 women and 19 men) in order to identify a characteristic pattern of the position displacement. Methodology: This study was based on the Rombergś test. Three measurements were performed to each patient with open eyes (OA) and closed eyes (OC) stand over a force platform. Results: A characteristic pattern of the medio-lateral X and anteroposterior Y movement was identified, and remarkable stability on the vertical axis Z around the center of pressure. Limitations: However, because of the small sample size there was not found conclusive results related to Body-Mass-Index, sex or age. Originality: Despite promising parameters were found for the evaluation of stabilometry in healthy young people, strengthening the objective tools of clinical assessment. Conclusion: This research identified common patient characteristics of normal movement, that could be considered as an objective standard for patient monitoring and treatment evaluation in patients with pathological balance disorders.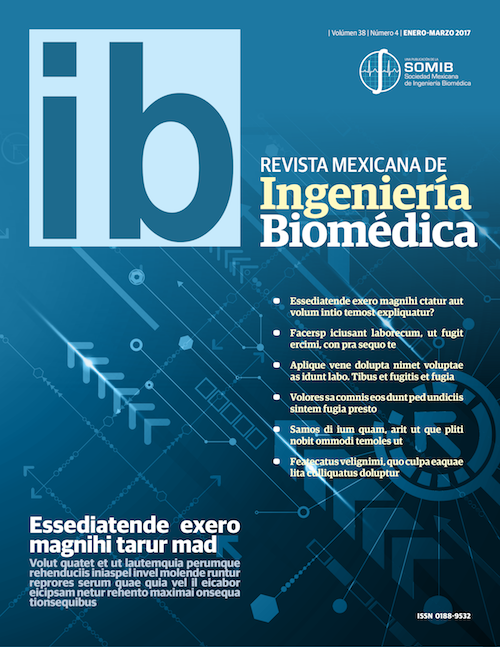 How to Cite
Cifuentes De la Portilla, C., Perdomo Charry, O., & Argothy Bucheli, R. (2017). Biomechanical reference standards for early diagnosis of disturbances of balance: pilot study. Mexican Journal of Biomedical Engineering, 38(1), 93-102. Retrieved from https://rmib.com.mx/index.php/rmib/article/view/14
Section
Research Articles
Upon acceptance of an article in the RMIB, corresponding authors will be asked to fulfill and sign the copyright and the journal publishing agreement, which will allow the RMIB authorization to publish this document in any media without limitations and without any cost. Authors may reuse parts of the paper in other documents and reproduce part or all of it for their personal use as long as a bibliographic reference is made to the RMIB and a copy of the reference is sent. However written permission of the Publisher is required for resale or distribution outside the corresponding author institution and for all other derivative works, including compilations and translations.