Support System for Semiautomatic Quantification of Pulmonary Fibrosis in CT Images
D. E. Rodríguez Obregón

Facultad de Ciencias, Universidad Autónoma de San Luis Potosí,

A. R. Mejía Rodríguez

Facultad de Ciencias, Universidad Autónoma de San Luis Potosí,

G. Dorantes Méndez

Facultad de Ciencias, Universidad Autónoma de San Luis Potosí,

E. R. Arce Santana

Facultad de Ciencias, Universidad Autónoma de San Luis Potosí,

S. Charleston Villalobos

Departamento de Ingeniería Eléctrica, Universidad Autónoma Metropolitana - Iztapalapa

M. Mejía Ávila

Instituto Nacional de Enfermedades Respiratorias

H. Mateos Toledo

Instituto Nacional de Enfermedades Respiratorias

R. González Camarena

Departamento de Ciencias de la Salud, Universidad Autónoma Metropolitana - Iztapalapa

A. T. Aljama Corrales

Departamento de Ingeniería Eléctrica, Universidad Autónoma Metropolitana - Iztapalapa
Keywords:
Pulmonar Fibrosis Estimation, Computed Tomography, Chan-Vese, Medical Image Segmentation
Abstract
A method to estimate the pulmonary fibrosis in computed tomography (CT) imaging is presented. A semi-automatic segmentation algorithm based on the Chan-Vese method was used. The proposed method shows a similar fibrosis region with respect to clinical expert. However, the results need to be validated in a bigger data base. The proposed method approximates a fibrosis percentage that allows to achieve this procedure easily in order to support its implementation in the clinical practice minimizing the clinical expert subjectivity and generating a quantitativeestimation of fibrosis region.
Downloads
Download data is not yet available.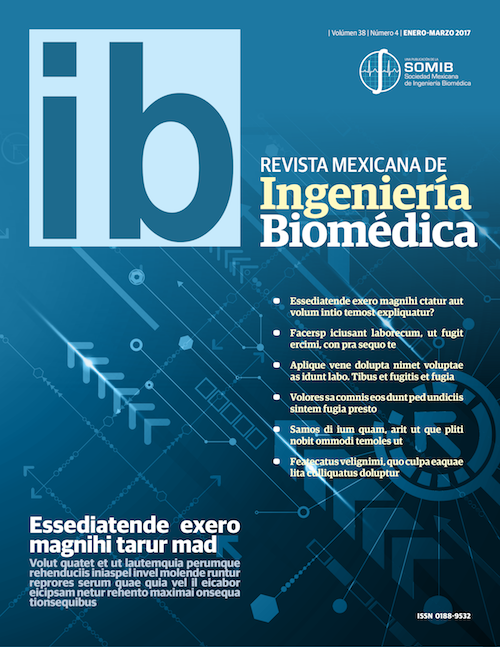 How to Cite
Rodríguez Obregón, D. E., Mejía Rodríguez, A. R., Dorantes Méndez, G., Arce Santana, E. R., Charleston Villalobos, S., Mejía Ávila, M., Mateos Toledo, H., González Camarena, R., & Aljama Corrales, A. T. (2017). Support System for Semiautomatic Quantification of Pulmonary Fibrosis in CT Images. Mexican Journal of Biomedical Engineering, 38(1), 155-165. Retrieved from https://rmib.com.mx/index.php/rmib/article/view/19
Upon acceptance of an article in the RMIB, corresponding authors will be asked to fulfill and sign the copyright and the journal publishing agreement, which will allow the RMIB authorization to publish this document in any media without limitations and without any cost. Authors may reuse parts of the paper in other documents and reproduce part or all of it for their personal use as long as a bibliographic reference is made to the RMIB and a copy of the reference is sent. However written permission of the Publisher is required for resale or distribution outside the corresponding author institution and for all other derivative works, including compilations and translations.