Adhesion and proliferation of bone marrow mesenchymal stem cells ontopoli-Llactic acid (PLA) fiber scaffolds
M. V. Granados

Laboratorio de Bioingeniería de Tejidos; DEPeI, Facultad de Odontología, UNAM 2 Facultad de Ciencias, UNAM.

J. J. Montesinos Montesinos

Laboratorio de Células Troncales Mesenquimales, Unidad de Investigación de Oncología, Hospital de Oncología, Centro Médico Nacional, IMSS

M. A. Álvarez Pérez

Laboratorio de Bioingeniería de Tejidos; DEPeI, Facultad de Odontología, UNAM
Keywords:
Scaffolds, Mesenchymal Stem Cells, Air Jet Spinning, Biocompatibility
Abstract
Fiber scaffolds have received increasing interest as promising biomaterials for potential application in the field of tissue regeneration. In this sense, we optimized the parameters for the synthesis of different concentrations (6, 7, and 10 %) of poly-lactic acid (PLA) scaffolds by air jet spinning technology (AJS). The PLA scaffolds were characterized by Scanning Electron Microscopy (SEM) and Fourier Transform Infrared Spectroscopy (FTIR) analysis. Our results by SEM micrographs showed that scaffolds have a fibrilar morphology with nanoscale diameter of fibers. Biocompatibility assay was observed through an in vitro experiment based on cell attachment, MTT and cell-material interaction assay when culturing bone marrow-derived mesenchymal stem cells onto the PLA spun membrane scaffolds. Our data indicate that fiber membrane of PLA scaffold increase the cellular response, are not cytotoxic when compared to thin films of PLA. Thus; the proposed synthesis method has potential for easy processing of spun fibrilar scaffolds with good biocompatibility and could be a promising economical biomaterial with future potential applications in tissue regeneration.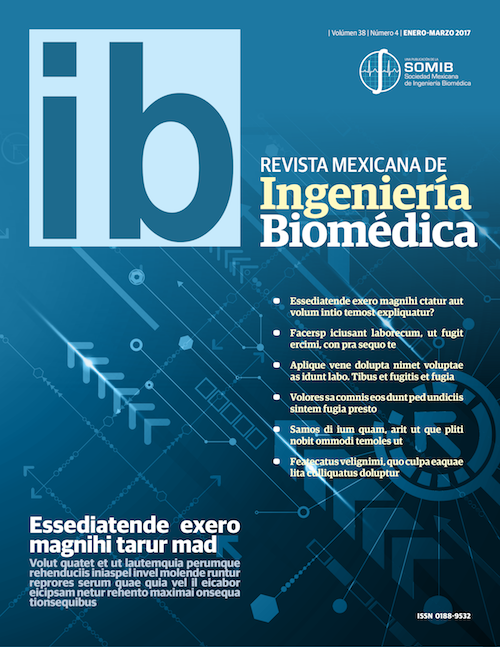 How to Cite
Granados, M. V., Montesinos Montesinos, J. J., & Álvarez Pérez, M. A. (2017). Adhesion and proliferation of bone marrow mesenchymal stem cells ontopoli-Llactic acid (PLA) fiber scaffolds. Mexican Journal of Biomedical Engineering, 38(1), 288-296. Retrieved from https://rmib.com.mx/index.php/rmib/article/view/32
Upon acceptance of an article in the RMIB, corresponding authors will be asked to fulfill and sign the copyright and the journal publishing agreement, which will allow the RMIB authorization to publish this document in any media without limitations and without any cost. Authors may reuse parts of the paper in other documents and reproduce part or all of it for their personal use as long as a bibliographic reference is made to the RMIB and a copy of the reference is sent. However written permission of the Publisher is required for resale or distribution outside the corresponding author institution and for all other derivative works, including compilations and translations.