Obtaining and Analysis of Optical Absorption Spectrum of Fisher Rat Blood with Hepatic Damage by Photoacoustic Spectroscopy
M. L. Alvarado Noguez

Instituto Politécnico Nacional - SEPI-ESIME

E. Cano Europa

Instituto Politécnico Nacional- ENCB

M. Franco Colín

Instituto Politécnico Nacional- ENCB

C. Hernández Aguilar

Instituto Politécnico Nacional - SEPI-ESIME

F. A. Domínguez Pacheco

Instituto Politécnico Nacional - SEPI-ESIME

A. Cruz Orea

Instituto Politécnico Nacional - SEPI-ESIME
Keywords:
Curcuma longa, liver damage, photoacoustic spectroscopy, Fisher rat blood
Abstract
Photoacoustic Spectroscopy (PAS) stand outs among Photothermal techniques due to its versatility for the characterization of different types of materials, including biological samples. In this study, were compared and analyzed by PAS, the differences between the optical absorption spectra of blood of male Fisher rats, in three cases, control (healthy rats), liver damage and liver damage treated with Curcuma longa. The experimental results show differences in the optical absorption spectra of each analysed case, therefore PAS would be proposed as a non conventional complementary technique, to study the effect of Curcuma longa in induced liver damage for an animal model.
Downloads
Download data is not yet available.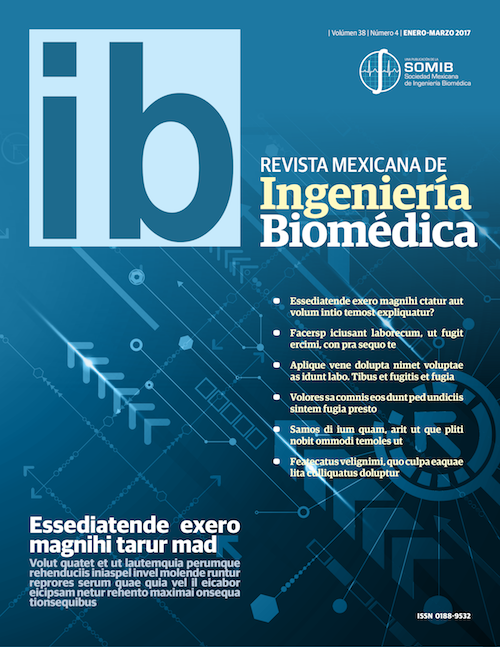 How to Cite
Alvarado Noguez, M. L., Cano Europa, E., Franco Colín, M., Hernández Aguilar, C., Domínguez Pacheco, F. A., & Cruz Orea, A. (2017). Obtaining and Analysis of Optical Absorption Spectrum of Fisher Rat Blood with Hepatic Damage by Photoacoustic Spectroscopy. Mexican Journal of Biomedical Engineering, 38(1), 357-362. Retrieved from https://rmib.com.mx/index.php/rmib/article/view/39
Upon acceptance of an article in the RMIB, corresponding authors will be asked to fulfill and sign the copyright and the journal publishing agreement, which will allow the RMIB authorization to publish this document in any media without limitations and without any cost. Authors may reuse parts of the paper in other documents and reproduce part or all of it for their personal use as long as a bibliographic reference is made to the RMIB and a copy of the reference is sent. However written permission of the Publisher is required for resale or distribution outside the corresponding author institution and for all other derivative works, including compilations and translations.