Analysis of the absorption spectra of EBT2 and EBT3 radiochromic films
E Y León Marroquín

Laboratorio de Fotomedicina Biofotónica Láser de Pulsos Ultracortos, Facultad de Medicina, Universidad Autónoma del Estado de México. Laboratorio de Física Médica y Unidad de Radiocirugía, Instituto Nacional de Neurología y Neurocirugía

A M Camacho López

Laboratorio de Fotomedicina Biofotónica Láser de Pulsos Ultracortos, Facultad de Medicina, Universidad Autónoma del Estado de México,

A O García Garduño

Laboratorio de Física Médica y Unidad de Radiocirugía, Instituto Nacional de Neurología y Neurocirugía

A J Herrera González

Laboratorio de Física Médica y Unidad de Radiocirugía, Instituto Nacional de Neurología y Neurocirugía

E J Villarreal Barajas

Department of Oncology and Department of Physics and Astronomy, University of Calgary, Calgary AB, and Department of Medical Physics, Tom Baker Cancer Center, Alberta, Canada

A C Martínez Quiroz

Laboratorio de Fotomedicina Biofotónica Láser de Pulsos Ultracortos, Facultad de Medicina, Universidad Autónoma del Estado de México

D De la Cruz Pérez

Laboratorio de Fotomedicina Biofotónica Láser de Pulsos Ultracortos, Facultad de Medicina, Universidad Autónoma del Estado de México

G Jiménez Avilés

Laboratorio de Fotomedicina Biofotónica Láser de Pulsos Ultracortos, Facultad de Medicina, Universidad Autónoma del Estado de México
Keywords:
Absorption spectrum, spectrophotometer, radiochromic film
Abstract
To analyze the net absorption spectra of EBT2 and EBT3 radiochromic films to describe their influenceon the behavior of dose-response curves. The films were irradiated in a linear accelerator of 6 MV. The net absorption spectra were obtained with a UV / VIS spectrophotometer. Dose-response curves were obtained with a scanner, a He-Ne laser and a spectrophotometer. The absorption spectrum of the EBT2 shows three focused absorption bands that retain position and increase their intensity as a function of dose, however, this behavior is not observed in EBT3 films. The dose-response curve shows maximum sensitivity using the spectrophotometer, but does not show a defined behavior. Generation of new knowledge for the creation of new optical systems capable of amplifying the responsiveness of the films. Show the correlation between net absorption spectra and their influence on dose-response curves in three different optical systems. The behavior of absorption spectra combined with the behavior of the dose-response curves helps to discard the use of optical systems that do not guarantee a reliable clinical use.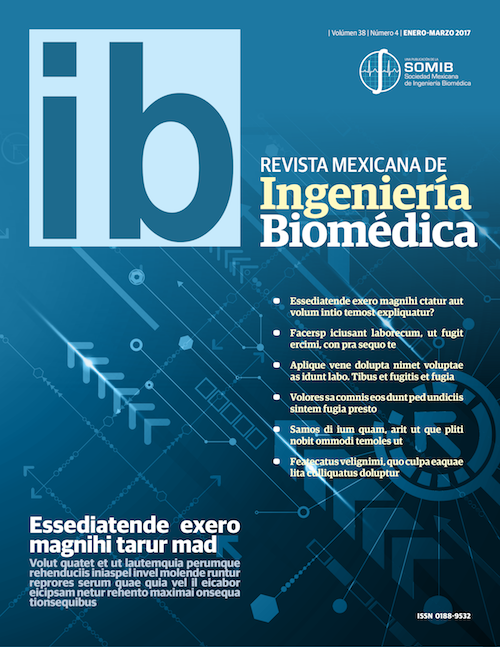 How to Cite
León Marroquín, E. Y., Camacho López, A. M., García Garduño, A. O., Herrera González, A. J., Villarreal Barajas, E. J., Martínez Quiroz, A. C., De la Cruz Pérez, D., & Jiménez Avilés, G. (2017). Analysis of the absorption spectra of EBT2 and EBT3 radiochromic films. Mexican Journal of Biomedical Engineering, 38(1), 363-371. Retrieved from https://rmib.com.mx/index.php/rmib/article/view/40
Upon acceptance of an article in the RMIB, corresponding authors will be asked to fulfill and sign the copyright and the journal publishing agreement, which will allow the RMIB authorization to publish this document in any media without limitations and without any cost. Authors may reuse parts of the paper in other documents and reproduce part or all of it for their personal use as long as a bibliographic reference is made to the RMIB and a copy of the reference is sent. However written permission of the Publisher is required for resale or distribution outside the corresponding author institution and for all other derivative works, including compilations and translations.