Carta Editorial
Abstract
Estimados lectores,
Es un gusto dar la bienvenida a un nuevo volumen de la Revista Mexicana de Ingeniería Biomédica en su primer número totalmente digital. Ha sido una magnífica experiencia y un año de arduo trabajo. Me gustaría aprovechar esta oportunidad para agradecer a los miembros del comité editorial, por su compromiso continuo con los estándares a los que aspira la revista. Durante 2016 hemos ampliado nuestro grupo de excelentes revisores con el objetivo de disminuir los tiempos de respuesta. Con una base tan amplia de apoyo, estamos ahora en una excelente posición para mejorar aún más la calidad de la producción de la revista. Con el apoyo continuo de la Sociedad Mexicana de Ingeniería Biomédica y el Consejo Nacional de Ciencia y Tecnología, estamos trabajando en renovar la plataforma editorial, aspiramos a normas más exigentes en todos los aspectos de la gestión y operación de la revista sumándonos al uso del sistema Open Journal System. Las contribuciones de autores extranjeros han ido en aumento permitiendo una mayor difusión de la RMIB en Latinoamérica, aumentando el número de lectores e impacto de la revista. Esperamos trabajar con todos ustedes mientras continuamos haciendo de la Revista Mexicana de Ingeniería Biomédica un éxito y damos la bienvenida a sus trabajos, así como a sus comentarios como autores, lectores y revisores de la revista. Me despido de ustedes agradeciendo la confianza depositada.
Nelly Gordillo Castillo
EDITORA EN JEFE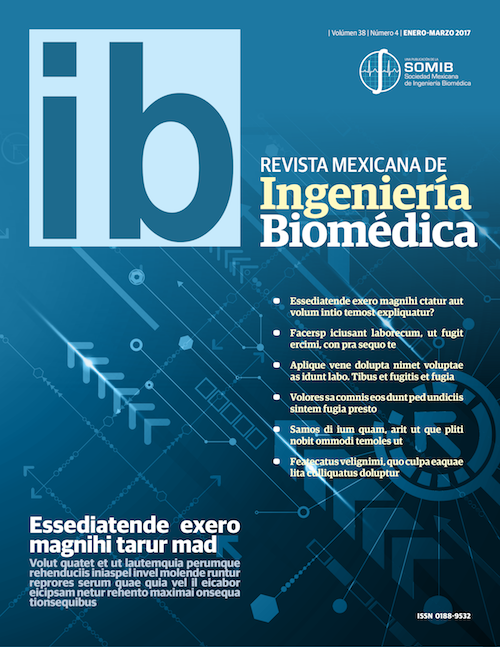 How to Cite
Gordillo Castillo, N. (2017). Carta Editorial. Mexican Journal of Biomedical Engineering, 38(1), 12. Retrieved from https://rmib.com.mx/index.php/rmib/article/view/46
Upon acceptance of an article in the RMIB, corresponding authors will be asked to fulfill and sign the copyright and the journal publishing agreement, which will allow the RMIB authorization to publish this document in any media without limitations and without any cost. Authors may reuse parts of the paper in other documents and reproduce part or all of it for their personal use as long as a bibliographic reference is made to the RMIB and a copy of the reference is sent. However written permission of the Publisher is required for resale or distribution outside the corresponding author institution and for all other derivative works, including compilations and translations.