Convocatoria Edición Especial Vol. 40 No. 1
Abstract
La RMIB realiza la siguiente convocatoria orientada a investigadores cuyos trabajos estén orientados en las especialidades de Biología Teórica o Biología Sintética, es decir, Sistemas en Biología; Neurociencias computacionales; Control en Biología; Bioingeniería; Edición Genómica y áreas relacionadas. "La Ingeniería Biomédica es una conjunción entre las ciencias duras, la ingeniería y la biomedicina. Está relacionada con la bioinformática y la biología computacional, áreas que desde hace algunas décadas se dedicaron a modelar matemáticamente a la biología molecular. Esta y otras integraciones de conceptos y paradigmas de áreas distintas a la biología han dado lugar a nuevas propuestas teóricas para entender los fenómenos biológicos, como las Ómicas, Sistemas en Biología, Control en Biología, Neuroinformática, y Biosemiótica, entre otras. Una parte importante del conocimiento generado converge sobre el concepto de elementos biológicos (como pueden ser ontologías, códigos, motivos, circuitos de interacción, o líneas celulares) que interactúan de manera semi-mecanicista, son modulares e intercambiables, y que, a través de la Biología Sintética, pueden diseñarse, construirse o modificarse para aplicaciones industriales, ambientales o biomédicas. Esta edición especial en Biología Teórica y Sintética tiene como propósito dar a conocer los avances de estas áreas a los profesionales en Ingeniería Biomédica".
Editor invitado: Dr. José Alejandro Morales Valencia
Downloads
Download data is not yet available.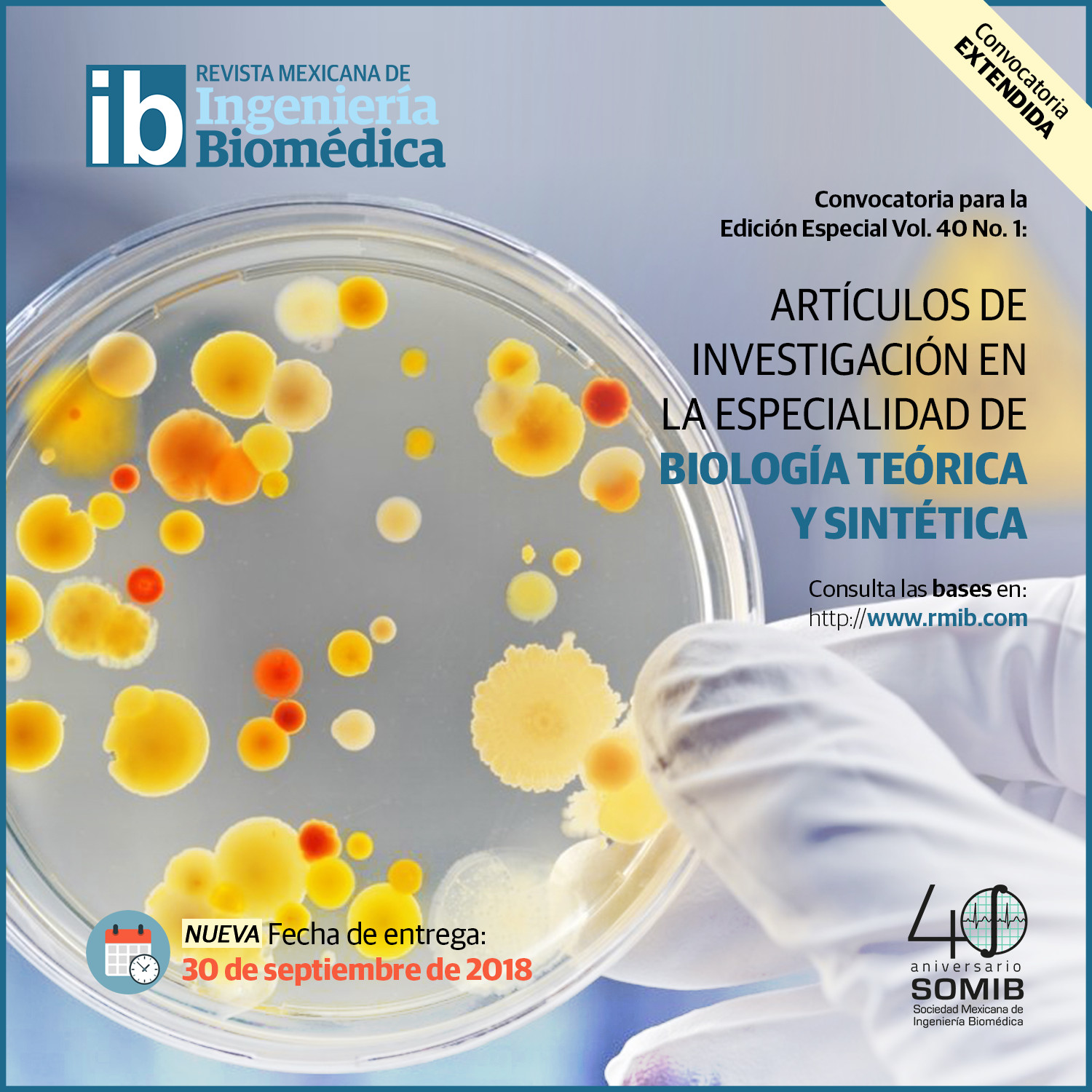 How to Cite
Editorial, C. (2018). Convocatoria Edición Especial Vol. 40 No. 1. Mexican Journal of Biomedical Engineering, 39(3). Retrieved from https://rmib.com.mx/index.php/rmib/article/view/864
Upon acceptance of an article in the RMIB, corresponding authors will be asked to fulfill and sign the copyright and the journal publishing agreement, which will allow the RMIB authorization to publish this document in any media without limitations and without any cost. Authors may reuse parts of the paper in other documents and reproduce part or all of it for their personal use as long as a bibliographic reference is made to the RMIB and a copy of the reference is sent. However written permission of the Publisher is required for resale or distribution outside the corresponding author institution and for all other derivative works, including compilations and translations.