Effect of Microemulsions of Essential Oils on Human Erythrocyte and Pathogens Bacteria
M. A. López

Departamento de Ciencias de la Salud, Universidad de Sonora, Campus Cajeme

E. Valbuena Gregorio

Departamento de Ciencias de la Salud, Universidad de Sonora, Campus Cajeme

L. Quihui Cota

Departamento de Nutrición Pública y Salud, Coordinación de Nutrición, Centro de Investigación en Alimentación y Desarrollo, A.C.

G. G. Morales Figueroa

Departamento de Nutrición Pública y Salud, Coordinación de Nutrición, Centro de Investigación en Alimentación y Desarrollo, A.C.

S. Ruiz Cruz

Departamento de Biotecnología y Ciencias Alimentarias, Instituto Tecnológico de Sonora

J. Campos García

Departamento de Ciencias de la Salud, Universidad de Sonora, Campus Cajeme

E. Díaz Meza

Departamento de Ciencias de la Salud, Universidad de Sonora, Campus Cajeme

D. E. Pablos Rodríguez

Departamento de Ciencias de la Salud, Universidad de Sonora, Campus Cajeme
Keywords:
Essential oil, antibacterial, hemolysis, microemulsions
Abstract
The aim of the study was to evaluate the effect of microemulsions of rosemary (AER) and tea tree (AET) essential oils on human erythrocyte and pathogen bacteria. Microemulsions of each oil were prepared at 8.0% (v/v), 5.0% (v/v) and 2.5% (v/v), and they were tested on human erythrocyte to determine the hemolysis percentage, hemolysis inhibition percentage and the antibacterial capacity against E. coli O157:H7 and S. aureus. All AER microemulsions showed no significant hemolytic activity. On the contrary, AET microemulsions showed hemolytic effect but those in concentrations of 8.0% (≈70%) and 5.0% (33%) showed the highest effect. In addition, AER microemulsions showed protective effect against free radicals in comparison with the AET microemulsions (p<0.05). On the other hand, the AET microemulsion at 8.0% showed antibacterial effect against E. coli O157:H7 and S. aureus, and the AER at 8.0% showed antibacterial effect against E. coli O157:H7. The limitation of this study was that nucleated cells were not used to observe the damage of the essential oils on nuclear material. However, the observed damage of erythrocyte's membrane is depending on type and amount of used oil. Therefore, it can be concluded that the AER microemulsions showed better protective effect of erythrocytes, while AET microemulsions showed better antibacterial effect against the tested bacteria, although with toxic effect on the erythrocytes.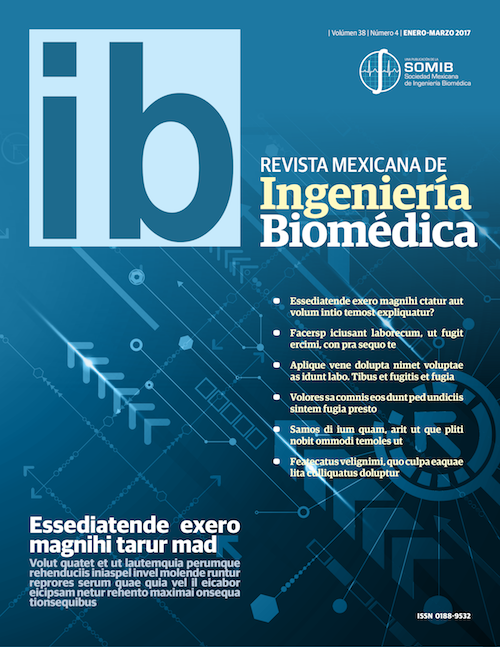 How to Cite
López, M. A., Valbuena Gregorio, E., Quihui Cota, L., Morales Figueroa, G. G., Ruiz Cruz, S., Campos García, J., Díaz Meza, E., & Pablos Rodríguez, D. E. (2017). Effect of Microemulsions of Essential Oils on Human Erythrocyte and Pathogens Bacteria. Mexican Journal of Biomedical Engineering, 38(1), 247- 254. Retrieved from https://rmib.com.mx/index.php/rmib/article/view/27
Upon acceptance of an article in the RMIB, corresponding authors will be asked to fulfill and sign the copyright and the journal publishing agreement, which will allow the RMIB authorization to publish this document in any media without limitations and without any cost. Authors may reuse parts of the paper in other documents and reproduce part or all of it for their personal use as long as a bibliographic reference is made to the RMIB and a copy of the reference is sent. However written permission of the Publisher is required for resale or distribution outside the corresponding author institution and for all other derivative works, including compilations and translations.