Effect of dehydroepiandroesterone and triamcinolone acetonide on 3T3-L1 cell line
G. Gutiérrez Iglesias

Departamento de Posgrado, Escuela Superior de Medicina, Instituto Politécnico Nacional

R. López Marure

Instituto Nacional de Cardiología Ignacio Chávez

A. Parra Barrera

Departamento de Posgrado, Escuela Superior de Medicina, Instituto Politécnico Nacional

A. J. Sotelo Camero

C. C. Calzada Mendoza

Departamento de Posgrado, Escuela Superior de Medicina, Instituto Politécnico Nacional

J. I. León Pedroza

Departamento de Posgrado, Escuela Superior de Medicina, Instituto Politécnico Nacional
Keywords:
Triamcinolone acetonide, dehydroepiandroesterone, 3T3-L1 fibroblast, Keloids scars
Abstract
The skin in the human is the largest organ, his integrity represents protection against various chemical, biological and mechanical agents. The injuries in this tissue are solved by forming a scar, however, different molecular alterations may overstimulate this process, leading to the formation of aberrant scars (hypertrophic or keloid). The most recommended treatment for such injuries is the intralesional application of triamcinolone acetonide (TA) and on the other hand, dehydroepiandrosterone (DHEA) is a pro-hormone that has a wide variety of biological effects such as regulation of the synthesis of collagen fibers, cell protection, anti-tumor properties, anti-inflammatory and anti-oxidant. In this paper, the combination of AT-DHEA on proliferation and cell death in fibroblast cell line 3T3-L1 was studied. The results showed that the AT 100 and 1000 M DHEA to inhibit proliferation by 50 and 40% respectively. The combination of AT-DHEA (10000-10 M) inhibits cell proliferation and induce programmed cell death, so this combination could be used in hypertrophic or keloid scars for disposal.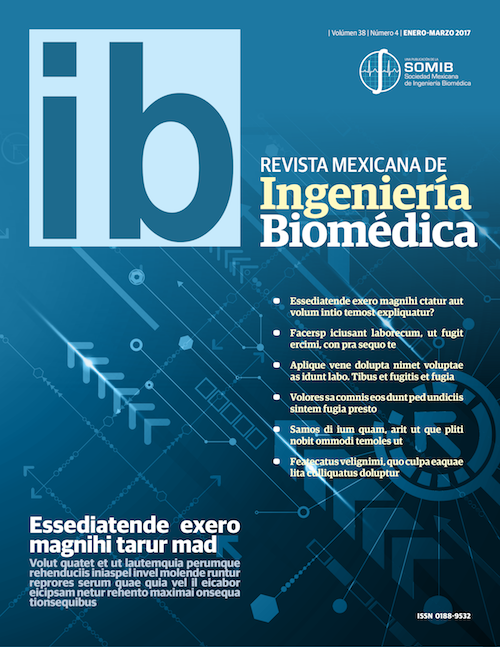 How to Cite
Gutiérrez Iglesias, G., López Marure, R., Parra Barrera, A., Sotelo Camero, A. J., Calzada Mendoza, C. C., & León Pedroza, J. I. (2017). Effect of dehydroepiandroesterone and triamcinolone acetonide on 3T3-L1 cell line. Mexican Journal of Biomedical Engineering, 38(1), 297-305. Retrieved from https://rmib.com.mx/index.php/rmib/article/view/33
Upon acceptance of an article in the RMIB, corresponding authors will be asked to fulfill and sign the copyright and the journal publishing agreement, which will allow the RMIB authorization to publish this document in any media without limitations and without any cost. Authors may reuse parts of the paper in other documents and reproduce part or all of it for their personal use as long as a bibliographic reference is made to the RMIB and a copy of the reference is sent. However written permission of the Publisher is required for resale or distribution outside the corresponding author institution and for all other derivative works, including compilations and translations.