Preparation and characterization of Copper Chitosan Nanocomposites with Antibacterial Activity for Applications in Tissue Engineering
K. Maldonado Lara

Departamento de Ingeniería Biomédica, Universidad de Celaya

G. Luna Bárcenas

Centro de Investigación y de Estudios Avanzados del Instituto Politécnico Nacional

E. Luna Hernández

F. Padilla Vaca

Departamento de Biología, División de Ciencias Naturales y Exactas, Universidad de Guanajuato

E. Hernández Sánchez

Departamento de Biología, División de Ciencias Naturales y Exactas, Universidad de Guanajuato

R. Betancourt Galindo

Departamento de Materiales Avanzados, Centro de Investigación en Química Aplicada

J. L. Menchaca Arredondo

Facultad de Ciencias Físico Matemáticas, Universidad Autónoma de Nuevo León

B. L. España Sánchez

Centro de Investigación y de Estudios Avanzados del Instituto Politécnico Nacional
Keywords:
Chitosan, Copper nanoparticles, Antibacterial nanocomposites
Abstract
The Present work describes the preparation of nanocomposites based on chitosan (QS)/copper nanoparticles (nCu) with antibacterial properties and potential application in tissue engineering. For this purpose, nanocomposites were prepared by solution blending with ultrasound assisted, aiming to increase the nanoparticles dispersion in the biopolymer. FTIR analyses demonstrates that nCu supported in QS increase their interaction of nanoparticles with amine/hydroxyl groups of QS molecule. UV-Vis analyses demonstrates that QS/nCu nanocomposites have an absorption signal associated with the presence of nanoparticles and the possible Cu2+ ions release in liquid media. AFM analyses shown that hydrated QS form a mesh with micro pores, improving the bacterial penetration and the direct contact with nCu. This behavior was corroborated by antibacterial assays, where QS/nCu nanocomposites shown an antibacterial activity higher than 90% between 90-180 minutes of interaction. Our results suggest that is possible to obtain combined antibacterial/biocompatible nanomaterials with potential application in tissue engineering.
Downloads
Download data is not yet available.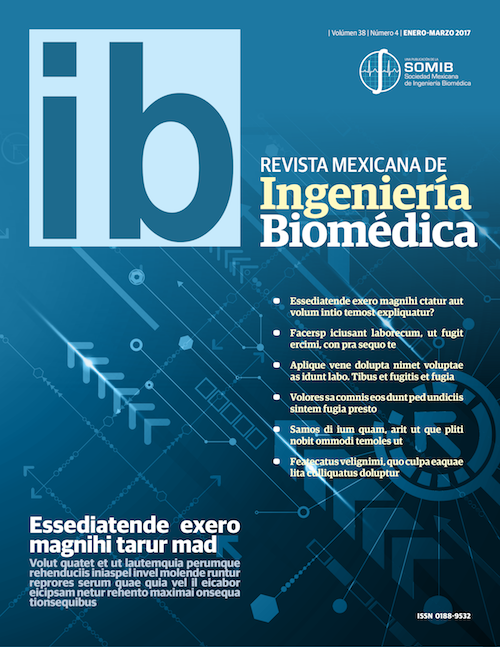 How to Cite
Maldonado Lara, K., Luna Bárcenas, G., Luna Hernández, E., Padilla Vaca, F., Hernández Sánchez, E., Betancourt Galindo, R., Menchaca Arredondo, J. L., & España Sánchez, B. L. (2017). Preparation and characterization of Copper Chitosan Nanocomposites with Antibacterial Activity for Applications in Tissue Engineering. Mexican Journal of Biomedical Engineering, 38(1), 306-313. Retrieved from https://rmib.com.mx/index.php/rmib/article/view/34
Upon acceptance of an article in the RMIB, corresponding authors will be asked to fulfill and sign the copyright and the journal publishing agreement, which will allow the RMIB authorization to publish this document in any media without limitations and without any cost. Authors may reuse parts of the paper in other documents and reproduce part or all of it for their personal use as long as a bibliographic reference is made to the RMIB and a copy of the reference is sent. However written permission of the Publisher is required for resale or distribution outside the corresponding author institution and for all other derivative works, including compilations and translations.