Development of magnetic nanoparticles Fe+32 X+21O4 (X= Fe, Co y Ni) coated by amino silane
I A Flores Urquizo

Universidad Autónoma de Ciudad Juárez, Instituto de Ingeniería y Tecnología

P García Casillas

Universidad Autónoma de Ciudad Juárez, Instituto de Ingeniería y Tecnología

C Chapa González

Universidad Autónoma de Ciudad Juárez, Instituto de Ingeniería y Tecnología
Keywords:
Magnetite, Nanomaterials, Hyperthermia
Abstract
Magnetic nanoparticles are proposed as heat mediators in hyperthermia treatments. In this work, three core-shell materials of different composition and magnetic anisotropy were developed to determine their properties as crystal size, saturation magnetization and their coating with organic molecules. The magnetic core of these materials was made by means of the coprecipitation reaction, following the stoichiometric ratio X+2Fe2+3O4 where X is Fe, Co or Ni for each material. From the X-ray diffraction patterns the crystal size of each material was determined, these were 10.39 nm, 7.27 nm y 3.86 nm. In addition, magnetization was 55.84 emu/g, 36.56 emu/g y 16.21 emu/g for magnetite, cobalt ferrite and nickel respectively. Each material was coated with aminosilane and by FTIR the vibrational modes of the C-N, N-H, C-H and Si-O bonds involved in the coating were identified.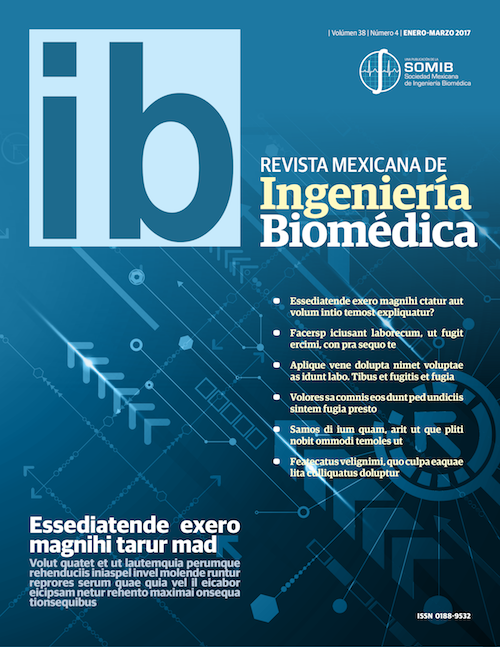 How to Cite
Flores Urquizo, I. A., García Casillas, P., & Chapa González, C. (2017). Development of magnetic nanoparticles Fe+32 X+21O4 (X= Fe, Co y Ni) coated by amino silane. Mexican Journal of Biomedical Engineering, 38(1), 402-411. Retrieved from https://rmib.com.mx/index.php/rmib/article/view/44
Upon acceptance of an article in the RMIB, corresponding authors will be asked to fulfill and sign the copyright and the journal publishing agreement, which will allow the RMIB authorization to publish this document in any media without limitations and without any cost. Authors may reuse parts of the paper in other documents and reproduce part or all of it for their personal use as long as a bibliographic reference is made to the RMIB and a copy of the reference is sent. However written permission of the Publisher is required for resale or distribution outside the corresponding author institution and for all other derivative works, including compilations and translations.